How to Be More Active on LinkedIn
In this article I explore how to be more active on LinkedIn, as a way for you to get more comfortable with and leverage the benefits of the world's largest professional networking platform.
If you don't have a plan for LinkedIn, but you feel like everyone around you does, and it may be wise for you to at least start thinking about it, today's article is meant as a gentle nudge to give you more confidence. Importantly, we're going to approach this in a way that feels comfortable and aligned with your personal values. My goal is to help you think more deeply about how you can be more active on LinkedIn. Whether you take action is up to you!
How to Be More Active on LinkedIn
Being more active on LinkedIn starts with developing a well thought out plan. Once you've developed this plan you are much better positioned to engage with other professionals and pages on LinkedIn, re-post and potentially also post and publish content. By being more active on LinkedIn you are helping raise your profile within and beyond your industry, which has the potential to expand your connections and create job and business opportunities.
Being active on LinkedIn can involve any of the following activities:
Reacting to your connection's updates.
Commenting intelligently on updates and articles you've read via your LinkedIn newsfeed.
Sharing articles you've read and commentating on why it's a useful resource for others.
Sharing posts or audio messages via LinkedIn messages with 1st degree connections as a way to share information and stay meaningfully connected.
Sending invitations to connect to people you know or have recently met.
Sharing photos from events you've attended and the insights you may have learnt.
Posting your own original thought provoking content.
I encourage you to have the mindset of 'how can I serve my ideal client community' before you post or share any content on LinkedIn. This will help build your professional reputation over time. For more about building a personal brand, please read this article.
1. Decide Your Content Focus – Topics
To develop your plan, you must first know your content focus. What are you going to talk or write about? What other thought leaders around the world commentate on these topics? Are you following them on LinkedIn too?
The opportunity is to choose 3 key topics that are relevant to your personal brand and are interesting for your ideal client.  This should be based on the community you want to influence on LinkedIn, which includes connections who will refer you and potential clients who will discover your content or look you up on LinkedIn via search or because they've heard someone mention you and your expertise.  
Let's use the example of a People & Culture Manager wishing to raise the profile of their own personal brand within their industry. They may be keen to attract great talent to their organisation, and so the type of content they engage with is in many ways also significant in terms of their organisation and how they are perceived as a key influencer of this organisation's culture.
Three topics that this People & Culture leader may choose to engage with are:
Diversity in the workplace
Wellbeing at work
Innovation in HR process
2. Curate Your LinkedIn Newsfeed
You can curate your LinkedIn newsfeed by following relevant content that is aligned with your content focus. Follow a particular page or person and then ring the bell in the top RH side of the intro card of the profile or page to manage your notifications for these updates. If you choose all new posts you will receive notifications for when they have posted in your notifications tab.
Manage your Notifications
This will improve your LinkedIn user experience and makes it easier for you to comment on, post and re-post relevant LinkedIn content in your areas of interest. You can also save posts and return to them later.
Whenever you like or comment on your connection's or company page updates, it's seen by your connections if they're on LinkedIn that particular day.
Being active on LinkedIn isn't just about posting your own original content all the time. LinkedIn is not social media.
It is a professional networking platform. It's therefore important you join other people's conversations. There is immense value in being a strategic content curator, rather than a prolific content creator.
Let's use the example of a People & Culture Manager once again. Here are some examples of pages to follow on LinkedIn that relate to the content focus.
Unfollow Updates from Some Connections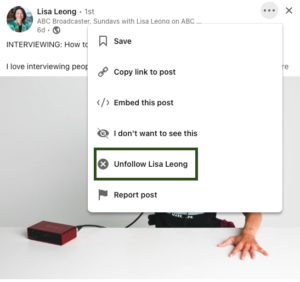 Go to your newsfeed on LinkedIn and click the 3 dots on the right hand side of a recent update.
In this example my connection Lisa Leong has posted an update. I can keep receiving these updates or I can choose to Unfollow Lisa Leong. Lisa will not be notified of this, and we will remain connected.
Side note – I have no plans to unfollow Lisa Leong as her updates are great.
Follow Your Content Topics via Hashtags
You can also search topics as hashtags and follow particular hashtags as a way to see what people are posting about in your areas of interest.
For example, if our People & Culture Manager wanted to follow the #workplacewellness hashtag on LinkedIn, this could be searched and will generate recent posts using this hashtag.
3. Content Posting Options via your LinkedIn Profile
If you're not sure where to start with posting, here's a list of some of the content types you can post via your LinkedIn profile.
You can publish articles and newsletters, share photos and videos, share text based posts with or without videos, photos and links, run a LinkedIn poll, re-post other LinkedIn member and LinkedIn Company Page posts from your organisation or other organisations you follow on LinkedIn and lots more!
Choose the content type you feel most comfortable with. If you already write a blog, you can repurpose this as a LinkedIn article, or post the link to the blog with some commentary for your LinkedIn community.
4. Spend Time on LinkedIn
Being active on LinkedIn means spending time there. I know this sounds obvious, but weeks can pass so quickly! My final point is to treat your time on LinkedIn like you would any other activity that is important to your business or career. Schedule time in your diary to be on LinkedIn.
You could considering 'habit stacking', a concept developed by James Clear in his book, Atomic Habits. This means, spending time on LinkedIn when you're doing something you already regularly do. For example, your morning coffee at your desk before you get into your work day. However you plan to approach it, I recommend you check your LinkedIn feed at least once a week as a way to get more comfortable with spending time there and being active in a way that's comfortable and aligned to your personal values.